'Tunnel of Oppression' E&H installation highlights issues of discrimination
E&H installation highlights issues of discrimination
EMORY, Va. — In the past four years, Diana Lopez's mother has been deported twice. The first time was in August 2015, and the second was this past August as Lopez was moving back into Emory & Henry College for her sophomore year.
Lopez shared her story in the Tunnel of Oppression installment at the Mason Fellowship Hall in Memorial Chapel on Emory & Henry's campus Sunday night.
"I want to share my story because I'm personally affected by this," Lopez said. "You hear statistics about people but you don't know that they can be right around you."
Students, faculty and community members had the opportunity to walk through five different installations of the Tunnel of Oppression exhibit.
The tunnel offered interactive and experiential vignettes of different types of oppression for visitors to travel through and experience. The different types of oppression included: issues of race, gender, class and environmental degradation. At the end of the tunnel, participants had the opportunity to engage in a discussion about their own experiences and discuss ways they can be part of the solution.
Both of Lopez's parents are originally from Mexico. Lopez shared her story in the tunnel that was raising awareness about immigration and deportation.
This is the first year the college hosted the event. The different tunnels were designed and put together by students.
Participants interacted in each tunnel for approximately seven minutes.
"The hope is that next year we have more tunnels," Patricia Gonzalez, director of the Inclusion and Dialogue Center said. "They're seven minutes talks but the hope is to educate beyond those seven minute talks heard today."
Tunnel of Oppression exhibits are "pretty popular" across college campuses nationwide, Amy Sorensen, an assistant professor of sociology at Emory & Henry, said.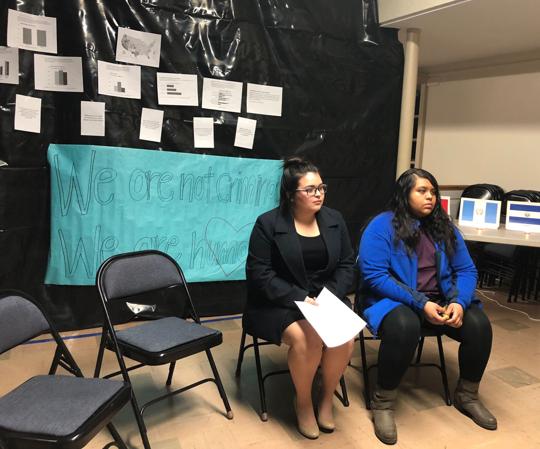 "We created a space for students to share these issues they are so passionate about," Sorensen said. "Hopefully students [and other visitors] are being impacted by the topics in each room."
The Tunnel of Oppression is one of the events during the college's annual Martin Luther King week-long series. This year's theme is "Break the Silence. Be the Change."
In observance of Martin Luther King Jr. Day today, the college has a keynote address by Bettina Love that is followed by morning and afternoon breakout sessions focusing on different types of privilege including race, gender and religion. The day ends with a worship service at 7:30 p.m. in Fellowship Hall, located in the lower level of the chapel.
The first tunnel focused on the Black Lives Matter movement and police brutality.
The room featured a 90-second video giving a visual timeline of police brutality over the past few years, statistics and facts on the walls and a vigil for those who have died from police brutality.
"Our current president [President Donald Trump] has encouraged police to continue what they're doing," Destiny Cobb, a sophomore psychology and sociology double major said. "We need to shed light on this. This our way, E&H's way to say no to this [police brutality.]"
The second tunnel focused on Hurricane Harvey, telling a narrative where half of the group portrayed a privileged family and the other half was a non-privileged family. The exercise looked at where the two groups ended up at the end of the first night, first week, third week and 10 years after the storm.
The third tunnel discussed slut shaming and why it's important to speak up and support each other. It was presented by Alpha Beta Chi sorority.
The fourth tunnel, immigration and deportation, where Lopez shared her story also had statistics, facts and a "Wall of Shame," that featured tweets from Trump about immigration and deportation that he wrote over the past few years.
"Immigrants come here to escape persecution of race, religion or gender … [and to] find refuge from violence or environmental factors, and to escape poverty," Ctacy Escobar, a junior mathematics and physics double major said. "This is a scary topic but a conversation that should be had."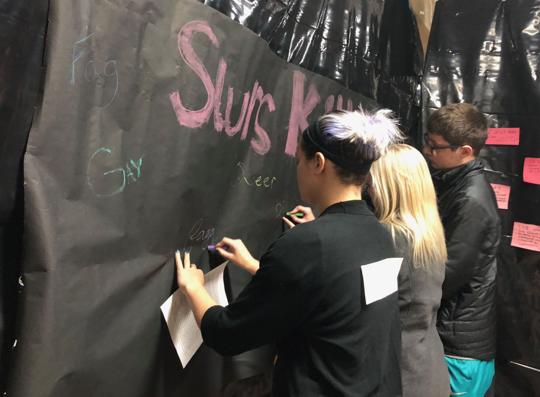 The fifth and final tunnel raised awareness about the LGBTQ community and the negative effects slurs can have on people.
In the middle of the room was a vigil for LGBTQ community members who have died.
"This vigil is of people our age who committed suicide or were murdered for being a part of the LGBTQ culture," Emaly Allison, a junior civic innovation and history double major, said.
This tunnel was presented by the Gender Sexuality Alliance group that Allison is co-president of.
Participants were invited to write on the "Slurs Kill" poster, either slurs they have said or have heard someone else say.
"Think about what these words does to young people's minds," Allison said.
Elise Harvey a sophomore interdisciplinary major with focuses in music, writing and mass communication, was a guide for the installation.
"I was interested in seeing people's reactions, as a guide you experience the tunnels but also can see multiple people's experiences," Harvey said.
Harvey was already planning on coming to the event and when she heard volunteers were needed she joined in.
"It's emotionally intense," Harvey said. "I teared up multiple times, and I tried to dissociate myself multiple times as well. These are important topics that need to be talked about."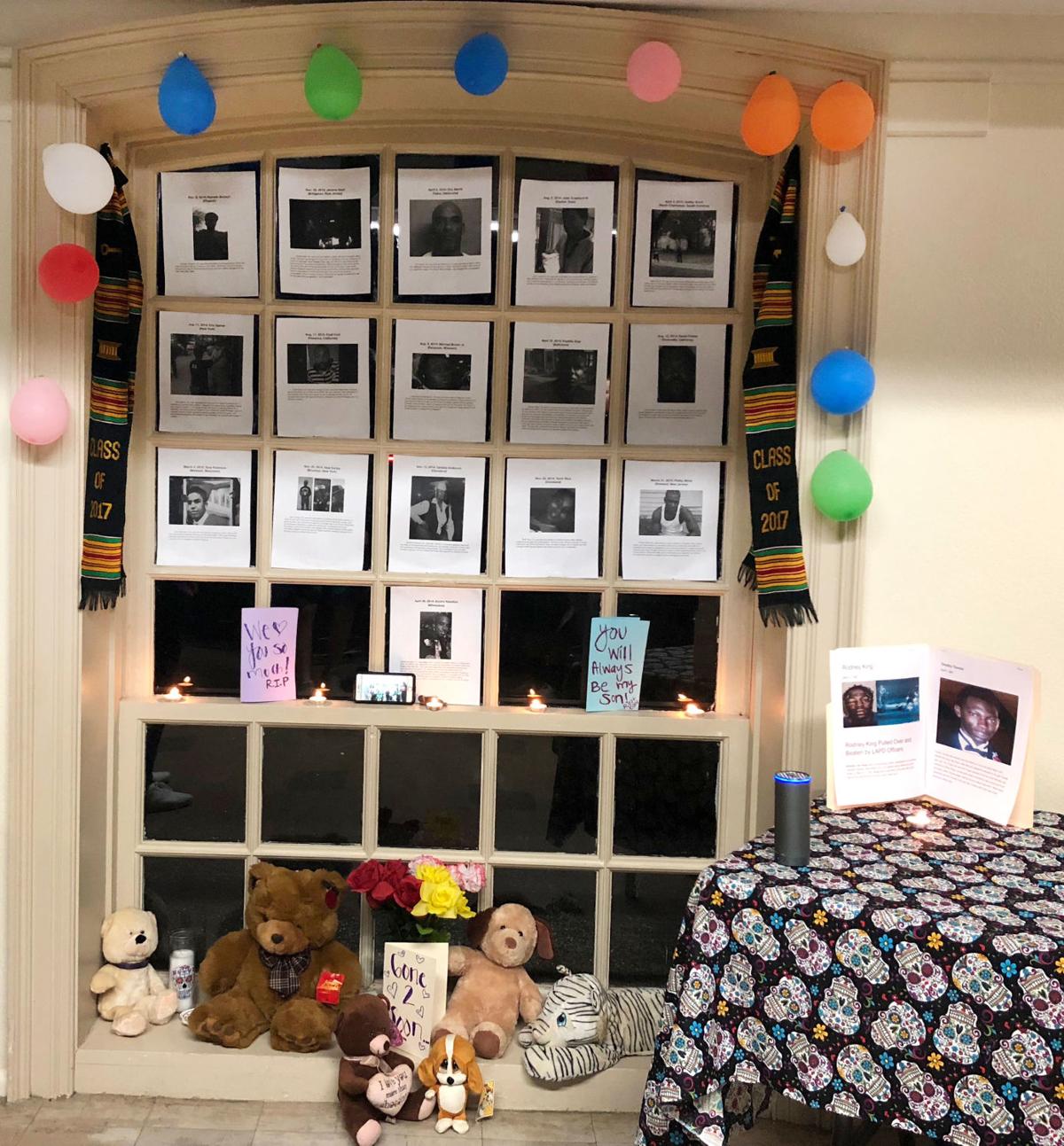 Open gallery
"We created a space for students to share these issues they are so passionate about," Sorensen said. "Hopefully students [and other visitors] are being impacted by the topics in each room."
The Tunnel of Oppression is one of the events during the college's annual Martin Luther King week-long series. This year's theme is "Break the Silence. Be the Change."
More News
<div class="lw_news_image"><span class="lw_item_thumb"><a href="/live/news/870-pride-at-emory-henry-college-celebrating-the"><picture class="lw_image"> <source type="image/webp" srcset="/live/image/gid/83/width/345/height/225/crop/1/src_region/0,0,1080,1080/6489_IMG_2782.rev.1561130288.JPG 1x, /live/image/scale/2x/gid/83/width/345/height/225/crop/1/src_region/0,0,1080,1080/6489_IMG_2782.rev.1561130288.JPG 2x, /live/image/scale/3x/gid/83/width/345/height/225/crop/1/src_region/0,0,1080,1080/6489_IMG_2782.rev.1561130288.JPG 3x"/> <source type="image/webp" srcset="/live/image/gid/83/width/345/height/225/crop/1/src_region/0,0,1080,1080/6489_IMG_2782.rev.1561130288.JPG 1x, /live/image/scale/2x/gid/83/width/345/height/225/crop/1/src_region/0,0,1080,1080/6489_IMG_2782.rev.1561130288.JPG 2x, /live/image/scale/3x/gid/83/width/345/height/225/crop/1/src_region/0,0,1080,1080/6489_IMG_2782.rev.1561130288.JPG 3x"/> <source type="image/jpeg" srcset="/live/image/gid/83/width/345/height/225/crop/1/src_region/0,0,1080,1080/6489_IMG_2782.rev.1561130288.JPG 1x, /live/image/scale/2x/gid/83/width/345/height/225/crop/1/src_region/0,0,1080,1080/6489_IMG_2782.rev.1561130288.JPG 2x, /live/image/scale/3x/gid/83/width/345/height/225/crop/1/src_region/0,0,1080,1080/6489_IMG_2782.rev.1561130288.JPG 3x"/> <img src="/live/image/gid/83/width/345/height/225/crop/1/src_region/0,0,1080,1080/6489_IMG_2782.rev.1561130288.JPG" alt="Students, faculty and staff at the TriPride Parade in Johnson City, Tenn." width="345" height="225" srcset="/live/image/scale/2x/gid/83/width/345/height/225/crop/1/src_region/0,0,1080,1080/6489_IMG_2782.rev.1561130288.JPG 2x, /live/image/scale/3x/gid/83/width/345/height/225/crop/1/src_region/0,0,1080,1080/6489_IMG_2782.rev.1561130288.JPG 3x" data-max-w="1080" data-max-h="1080" loading="lazy"/> </picture> </a></span></div><div class="lw_widget_text"><h4 class="lw_news_headline"><a href="/live/news/870-pride-at-emory-henry-college-celebrating-the">Pride at Emory & Henry College: Celebrating the LGBTQ+ Community</a></h4><div class="lw_news_summary"> June is Pride Month at Emory & Henry College! Travis Proffitt and the Inclusion & Dialogue Center have been working hard to provide a safe and inclusive environment on campus for all students.  <a href="/live/news/870-pride-at-emory-henry-college-celebrating-the" class="link-with-arrow gold">Keep reading</a></div></div>
<div class="lw_news_image"><span class="lw_item_thumb"><a href="/live/news/242-from-king-to-hip-hop-college-celebrates-mlk"><picture class="lw_image"> <source type="image/webp" srcset="/live/image/gid/83/width/345/height/225/crop/1/src_region/0,0,3200,2136/2222_WhiteWhale-MLK-IMG142_2.rev.1691091984.webp 1x, /live/image/scale/2x/gid/83/width/345/height/225/crop/1/src_region/0,0,3200,2136/2222_WhiteWhale-MLK-IMG142_2.rev.1691091984.webp 2x, /live/image/scale/3x/gid/83/width/345/height/225/crop/1/src_region/0,0,3200,2136/2222_WhiteWhale-MLK-IMG142_2.rev.1691091984.webp 3x"/> <source type="image/jpeg" srcset="/live/image/gid/83/width/345/height/225/crop/1/src_region/0,0,3200,2136/2222_WhiteWhale-MLK-IMG142_2.rev.1691091984.jpg 1x, /live/image/scale/2x/gid/83/width/345/height/225/crop/1/src_region/0,0,3200,2136/2222_WhiteWhale-MLK-IMG142_2.rev.1691091984.jpg 2x, /live/image/scale/3x/gid/83/width/345/height/225/crop/1/src_region/0,0,3200,2136/2222_WhiteWhale-MLK-IMG142_2.rev.1691091984.jpg 3x"/> <img src="/live/image/gid/83/width/345/height/225/crop/1/src_region/0,0,3200,2136/2222_WhiteWhale-MLK-IMG142_2.rev.1691091984.jpg" alt="Dr. Bettina Love at the 2018 MLK Day Celebration." width="345" height="225" srcset="/live/image/scale/2x/gid/83/width/345/height/225/crop/1/src_region/0,0,3200,2136/2222_WhiteWhale-MLK-IMG142_2.rev.1691091984.jpg 2x, /live/image/scale/3x/gid/83/width/345/height/225/crop/1/src_region/0,0,3200,2136/2222_WhiteWhale-MLK-IMG142_2.rev.1691091984.jpg 3x" data-max-w="3200" data-max-h="2136" loading="lazy"/> </picture> </a></span></div><div class="lw_widget_text"><h4 class="lw_news_headline"><a href="/live/news/242-from-king-to-hip-hop-college-celebrates-mlk">From King to Hip Hop, College Celebrates MLK</a></h4><div class="lw_news_summary"><p> Dr. Bettina Love, award-winning author and associate professor of educational theory and practice at the University of Georgia, delivered the keynote address for the College's annual celebration of Martin Luther King, Jr. Day in the McGlothlin Center for the Arts.</p><a href="/live/news/242-from-king-to-hip-hop-college-celebrates-mlk" class="link-with-arrow gold">Keep reading</a></div></div>
<div class="lw_news_image"><span class="lw_item_thumb"><a href="/live/news/177-college-awarded-300000-grant-to-fight-sexual"><picture class="lw_image"> <source type="image/webp" srcset="/live/image/gid/90/width/345/height/225/crop/1/src_region/0,0,770,300/1551_OVW_logo.rev.1512748664.webp 1x, /live/image/scale/2x/gid/90/width/345/height/225/crop/1/src_region/0,0,770,300/1551_OVW_logo.rev.1512748664.webp 2x"/> <source type="image/jpeg" srcset="/live/image/gid/90/width/345/height/225/crop/1/src_region/0,0,770,300/1551_OVW_logo.rev.1512748664.jpg 1x, /live/image/scale/2x/gid/90/width/345/height/225/crop/1/src_region/0,0,770,300/1551_OVW_logo.rev.1512748664.jpg 2x"/> <img src="/live/image/gid/90/width/345/height/225/crop/1/src_region/0,0,770,300/1551_OVW_logo.rev.1512748664.jpg" alt="Logo for Office on Violence Against Women" width="345" height="225" data-max-w="770" data-max-h="300" loading="lazy"/> </picture> </a></span></div><div class="lw_widget_text"><h4 class="lw_news_headline"><a href="/live/news/177-college-awarded-300000-grant-to-fight-sexual">College Awarded $300,000 Grant to Fight Sexual Assault</a></h4><div class="lw_news_summary"> Emory & Henry is just one of several colleges receiving a grant to address an important campus issue. <a href="/live/news/177-college-awarded-300000-grant-to-fight-sexual" class="link-with-arrow gold">Keep reading</a></div></div>
<div class="lw_news_image"><span class="lw_item_thumb"><a href="/live/news/962-eamph-takes-part-in-second-tripride-parade"><picture class="lw_image"> <source type="image/webp" srcset="/live/image/gid/83/width/345/height/225/crop/1/src_region/0,0,3200,2400/6835_IMG_6703.rev.1568297029.webp 1x, /live/image/scale/2x/gid/83/width/345/height/225/crop/1/src_region/0,0,3200,2400/6835_IMG_6703.rev.1568297029.webp 2x, /live/image/scale/3x/gid/83/width/345/height/225/crop/1/src_region/0,0,3200,2400/6835_IMG_6703.rev.1568297029.webp 3x"/> <source type="image/jpeg" srcset="/live/image/gid/83/width/345/height/225/crop/1/src_region/0,0,3200,2400/6835_IMG_6703.rev.1568297029.jpg 1x, /live/image/scale/2x/gid/83/width/345/height/225/crop/1/src_region/0,0,3200,2400/6835_IMG_6703.rev.1568297029.jpg 2x, /live/image/scale/3x/gid/83/width/345/height/225/crop/1/src_region/0,0,3200,2400/6835_IMG_6703.rev.1568297029.jpg 3x"/> <img src="/live/image/gid/83/width/345/height/225/crop/1/src_region/0,0,3200,2400/6835_IMG_6703.rev.1568297029.jpg" alt="Students and faculty of E&H ready with their parade banner." width="345" height="225" srcset="/live/image/scale/2x/gid/83/width/345/height/225/crop/1/src_region/0,0,3200,2400/6835_IMG_6703.rev.1568297029.jpg 2x, /live/image/scale/3x/gid/83/width/345/height/225/crop/1/src_region/0,0,3200,2400/6835_IMG_6703.rev.1568297029.jpg 3x" data-max-w="3200" data-max-h="2400" loading="lazy"/> </picture> </a></span></div><div class="lw_widget_text"><h4 class="lw_news_headline"><a href="/live/news/962-eamph-takes-part-in-second-tripride-parade">E&H Takes Part in Second TriPride Parade</a></h4><div class="lw_news_summary"> On September 7, 2019, TriPride held their second Pride parade and festival in downtown Kingsport, Tenn. <a href="/live/news/962-eamph-takes-part-in-second-tripride-parade" class="link-with-arrow gold">Keep reading</a></div></div>
<div class="lw_news_image"><span class="lw_item_thumb"><a href="/live/news/32-wehc-series-honored-by-the-virginia-association-of"><picture class="lw_image"> <source type="image/webp" srcset="/live/image/gid/83/width/345/height/225/crop/1/src_region/202,0,798,596/764_WEHC_award_alana_simmons.rev.1507210399.webp 1x"/> <source type="image/jpeg" srcset="/live/image/gid/83/width/345/height/225/crop/1/src_region/202,0,798,596/764_WEHC_award_alana_simmons.rev.1507210399.jpg 1x"/> <img src="/live/image/gid/83/width/345/height/225/crop/1/src_region/202,0,798,596/764_WEHC_award_alana_simmons.rev.1507210399.jpg" alt="Program host Alana Simmons with the WEHC award." width="345" height="225" data-max-w="596" data-max-h="596" loading="lazy"/> </picture> </a></span></div><div class="lw_widget_text"><h4 class="lw_news_headline"><a href="/live/news/32-wehc-series-honored-by-the-virginia-association-of">WEHC Series Honored by the Virginia Association of Broadcasters</a></h4><div class="lw_news_summary"> Alana Simmons, project coordinator for the Office of Violence Against Women at Emory & Henry College was honored recently by the Virginia Association of Broadcasters for a series that takes an in-depth look at domestic violence in Southwest Virginia. <a href="/live/news/32-wehc-series-honored-by-the-virginia-association-of" class="link-with-arrow gold">Keep reading</a></div></div>
<div class="lw_news_image"><span class="lw_item_thumb"><a href="/live/news/967-eamph-hosts-non-profit-to-spread-awareness-of"><picture class="lw_image"> <source type="image/webp" srcset="/live/image/gid/83/width/345/height/225/crop/1/src_region/0,0,400,400/6866_571a4365aad27.image.rev.1568307721.webp 1x"/> <source type="image/jpeg" srcset="/live/image/gid/83/width/345/height/225/crop/1/src_region/0,0,400,400/6866_571a4365aad27.image.rev.1568307721.jpg 1x"/> <img src="/live/image/gid/83/width/345/height/225/crop/1/src_region/0,0,400,400/6866_571a4365aad27.image.rev.1568307721.jpg" alt="Help Save the Next Girl logo." width="345" height="225" data-max-w="400" data-max-h="400" loading="lazy"/> </picture> </a></span></div><div class="lw_widget_text"><h4 class="lw_news_headline"><a href="/live/news/967-eamph-hosts-non-profit-to-spread-awareness-of">E&H Hosts Non-Profit to Spread Awareness of Predatory Dangers</a></h4><div class="lw_news_summary"> Help Save the Next Girl will be coming to campus on Sept. 22 to help desensitize young women and girls to predatory danger. <a href="/live/news/967-eamph-hosts-non-profit-to-spread-awareness-of" class="link-with-arrow gold">Keep reading</a></div></div>
<div class="lw_news_image"><span class="lw_item_thumb"><a href="/live/news/991-eamphs-grant-renewal-aids-in-the-fight-against"><picture class="lw_image"> <source type="image/webp" srcset="/live/image/gid/83/width/345/height/225/crop/1/src_region/0,0,3200,1969/6928_AdobeStock_183494972.rev.1569435806.webp 1x, /live/image/scale/2x/gid/83/width/345/height/225/crop/1/src_region/0,0,3200,1969/6928_AdobeStock_183494972.rev.1569435806.webp 2x, /live/image/scale/3x/gid/83/width/345/height/225/crop/1/src_region/0,0,3200,1969/6928_AdobeStock_183494972.rev.1569435806.webp 3x"/> <source type="image/jpeg" srcset="/live/image/gid/83/width/345/height/225/crop/1/src_region/0,0,3200,1969/6928_AdobeStock_183494972.rev.1569435806.jpg 1x, /live/image/scale/2x/gid/83/width/345/height/225/crop/1/src_region/0,0,3200,1969/6928_AdobeStock_183494972.rev.1569435806.jpg 2x, /live/image/scale/3x/gid/83/width/345/height/225/crop/1/src_region/0,0,3200,1969/6928_AdobeStock_183494972.rev.1569435806.jpg 3x"/> <img src="/live/image/gid/83/width/345/height/225/crop/1/src_region/0,0,3200,1969/6928_AdobeStock_183494972.rev.1569435806.jpg" alt="A purple ribbon for awareness about unacceptability of violence against women" width="345" height="225" srcset="/live/image/scale/2x/gid/83/width/345/height/225/crop/1/src_region/0,0,3200,1969/6928_AdobeStock_183494972.rev.1569435806.jpg 2x, /live/image/scale/3x/gid/83/width/345/height/225/crop/1/src_region/0,0,3200,1969/6928_AdobeStock_183494972.rev.1569435806.jpg 3x" data-max-w="3200" data-max-h="1969" loading="lazy"/> </picture> </a></span></div><div class="lw_widget_text"><h4 class="lw_news_headline"><a href="/live/news/991-eamphs-grant-renewal-aids-in-the-fight-against">E&H's Grant Renewal Aids in the Fight Against Gender-Based Violence</a></h4><div class="lw_news_summary"> E&H has renewed its grant from the Office on Violence Against Women to continue offering programs about gender-based violence awareness and prevention to students on campus. <a href="/live/news/991-eamphs-grant-renewal-aids-in-the-fight-against" class="link-with-arrow gold">Keep reading</a></div></div>
<div class="lw_news_image"><span class="lw_item_thumb"><a href="/live/news/297-student-explores-battle-of-saltville"><picture class="lw_image"> <source type="image/webp" srcset="/live/image/gid/83/width/345/height/225/crop/1/src_region/0,0,960,616/3322_EmmaGraceThompsonSaltvilleLyceum.rev.1519140029.webp 1x, /live/image/scale/2x/gid/83/width/345/height/225/crop/1/src_region/0,0,960,616/3322_EmmaGraceThompsonSaltvilleLyceum.rev.1519140029.webp 2x"/> <source type="image/jpeg" srcset="/live/image/gid/83/width/345/height/225/crop/1/src_region/0,0,960,616/3322_EmmaGraceThompsonSaltvilleLyceum.rev.1519140029.jpg 1x, /live/image/scale/2x/gid/83/width/345/height/225/crop/1/src_region/0,0,960,616/3322_EmmaGraceThompsonSaltvilleLyceum.rev.1519140029.jpg 2x"/> <img src="/live/image/gid/83/width/345/height/225/crop/1/src_region/0,0,960,616/3322_EmmaGraceThompsonSaltvilleLyceum.rev.1519140029.jpg" alt="Emma Grace Thompson presents her research a lyceum event in the Board of Visitors Lounge." width="345" height="225" srcset="/live/image/scale/2x/gid/83/width/345/height/225/crop/1/src_region/0,0,960,616/3322_EmmaGraceThompsonSaltvilleLyceum.rev.1519140029.jpg 2x" data-max-w="960" data-max-h="616" loading="lazy"/> </picture> </a></span></div><div class="lw_widget_text"><h4 class="lw_news_headline"><a href="/live/news/297-student-explores-battle-of-saltville">Student Explores Battle of Saltville</a></h4><div class="lw_news_summary"><p> Emory & Henry College student Emma Grace Thompson is looking to the past to build a future career as an historian.</p><a href="/live/news/297-student-explores-battle-of-saltville" class="link-with-arrow gold">Keep reading</a></div></div>
<div class="lw_news_image"><span class="lw_item_thumb"><a href="/live/news/280-emory-henry-college-opens-interfaith-prayer"><picture class="lw_image"> <source type="image/webp" srcset="/live/image/gid/83/width/345/height/225/crop/1/src_region/0,0,3200,2133/3171_InterfaithPrayerRoom16_2.rev.1518211260.webp 1x, /live/image/scale/2x/gid/83/width/345/height/225/crop/1/src_region/0,0,3200,2133/3171_InterfaithPrayerRoom16_2.rev.1518211260.webp 2x, /live/image/scale/3x/gid/83/width/345/height/225/crop/1/src_region/0,0,3200,2133/3171_InterfaithPrayerRoom16_2.rev.1518211260.webp 3x"/> <source type="image/jpeg" srcset="/live/image/gid/83/width/345/height/225/crop/1/src_region/0,0,3200,2133/3171_InterfaithPrayerRoom16_2.rev.1518211260.jpg 1x, /live/image/scale/2x/gid/83/width/345/height/225/crop/1/src_region/0,0,3200,2133/3171_InterfaithPrayerRoom16_2.rev.1518211260.jpg 2x, /live/image/scale/3x/gid/83/width/345/height/225/crop/1/src_region/0,0,3200,2133/3171_InterfaithPrayerRoom16_2.rev.1518211260.jpg 3x"/> <img src="/live/image/gid/83/width/345/height/225/crop/1/src_region/0,0,3200,2133/3171_InterfaithPrayerRoom16_2.rev.1518211260.jpg" alt="Student Safa Farhoumand helps dedicate the Interfaith Prayer Room." width="345" height="225" srcset="/live/image/scale/2x/gid/83/width/345/height/225/crop/1/src_region/0,0,3200,2133/3171_InterfaithPrayerRoom16_2.rev.1518211260.jpg 2x, /live/image/scale/3x/gid/83/width/345/height/225/crop/1/src_region/0,0,3200,2133/3171_InterfaithPrayerRoom16_2.rev.1518211260.jpg 3x" data-max-w="3200" data-max-h="2133" loading="lazy"/> </picture> </a></span></div><div class="lw_widget_text"><h4 class="lw_news_headline"><a href="/live/news/280-emory-henry-college-opens-interfaith-prayer">Emory & Henry College Opens Interfaith Prayer Room</a></h4><div class="lw_news_summary"><p> Equipped with chairs, tables, prayer rugs and religious texts, a room in the lower-level of Memorial Chapel on the Emory & Henry College campus is now available for students of all faiths to have a quiet place to pray and meditate.</p><a href="/live/news/280-emory-henry-college-opens-interfaith-prayer" class="link-with-arrow gold">Keep reading</a></div></div>
<div class="lw_news_image"><span class="lw_item_thumb"><a href="/live/news/341-college-hosts-inaugural-diversity-reading-group"><picture class="lw_image"> <source type="image/webp" srcset="/live/image/gid/66/width/345/height/225/crop/1/3546_Book_Group_Obear.rev.1521040409.webp 1x, /live/image/scale/2x/gid/66/width/345/height/225/crop/1/3546_Book_Group_Obear.rev.1521040409.webp 2x, /live/image/scale/3x/gid/66/width/345/height/225/crop/1/3546_Book_Group_Obear.rev.1521040409.webp 3x"/> <source type="image/jpeg" srcset="/live/image/gid/66/width/345/height/225/crop/1/3546_Book_Group_Obear.rev.1521040409.jpg 1x, /live/image/scale/2x/gid/66/width/345/height/225/crop/1/3546_Book_Group_Obear.rev.1521040409.jpg 2x, /live/image/scale/3x/gid/66/width/345/height/225/crop/1/3546_Book_Group_Obear.rev.1521040409.jpg 3x"/> <img src="/live/image/gid/66/width/345/height/225/crop/1/3546_Book_Group_Obear.rev.1521040409.jpg" alt="Diversity Reading Group" width="345" height="225" srcset="/live/image/scale/2x/gid/66/width/345/height/225/crop/1/3546_Book_Group_Obear.rev.1521040409.jpg 2x, /live/image/scale/3x/gid/66/width/345/height/225/crop/1/3546_Book_Group_Obear.rev.1521040409.jpg 3x" data-max-w="3200" data-max-h="2399" loading="lazy"/> </picture> </a></span></div><div class="lw_widget_text"><h4 class="lw_news_headline"><a href="/live/news/341-college-hosts-inaugural-diversity-reading-group">College Hosts Inaugural Diversity Reading Group</a></h4><div class="lw_news_summary"> E&H faculty will read Dr. Kathy Obear's <em>But I'm Not Racist! Tools For Well-Meaning Whites.</em><a href="/live/news/341-college-hosts-inaugural-diversity-reading-group" class="link-with-arrow gold">Keep reading</a></div></div>